Yes, Mitch Ryder is still around - and touring! You can find him and part of his original band, The Detroit Wheels, playing any number of dates all over the country and Europe. If you were part of that era when Motown was huge, you owe it to yourself to catch him live sometime.

I first saw Mitch live while I was a student at Bowling Green University in Bowling Green, Ohio during the late sixties. I introduced my wife to his music much later on and she has become a big fan. She now has most of his old albums on CD as well as most of his newer music. She still has quite an extensive LP collection too.

In 1998 she won an opportunity to attend a concert in Canton, Ohio at the Palace Theater as Mitch's guest, complete with backstage passes and an opportunity to spend some time with the band and Mitch. I was fortunate enough to be able to accompany her for the show. Below is her review of that experience.

Mitch Ryder at the Palace Theater in Canton, Ohio - Nov. 21, 1998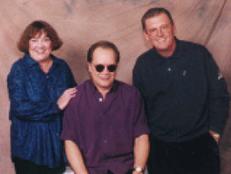 Pictured, left to right, Kathy Laird, Mitch Ryder and Larry Laird. Taken backstage between shows at the Palace Theater in Canton, Ohio, November 21, 1998. My husband and I were special guests of Mitch Ryder and Annette Joseph Walker, webmaster of Mitch's web site. Mitch and the band played two great sets.
We arrived a bit late for the first show due to construction in downtown Canton and a foul up at the hotel with our passes. We did hook up with Annette shortly at the Palace Theater and missed very little of the first set. The band played many of their old hits, and sounded as tight as ever. The crowd knew the music and Mitch and the band didn't disappoint anyone.
The three of us joined Mitch and the band backstage between shows for dinner, drinks, photographs, and conversation. Larry and I had a great time hanging out with Mitch, Annette and the band. We had an especially nice time chatting with Rico, the band's keyboard player. He is an very talented musician and quite the showman - and storyteller. We believed every word, Rico.
We really enjoyed spending time with Annette, it was our first meeting in person. However, it seem like I had known her forever, having exchanged many e-mails and telephone calls. She gave me some photos of Mitch, a CD and a classic autographed 45 RPM record of Billy Lee and the Riverias, Mitch's first group. The 45 was recorded in 1964 and featured "You Know" on the A side and "Won't You Dance With Me?" on the B. The band consisted of Jim McCarty , lead guitar, Johnny "Bee" Badanjek, drums, Earl Elliot, bass, Joe Kubert, rhythm guitar, and of course, Mitch Ryder, vocals.

Mitch even had a special gift for me, marking the occasion. It was a beautiful clock in a gold box that looks like a gift wrapped package. I was thrilled with it and really do appreciate his thoughtfulness. After the shows, Mitch and the band had to hit the road back to Detroit. Annette, Larry and I headed back to the hotel where we had a few drinks and talked until quite late. (The bar closed!) The three of us had breakfast together the next morning and then had to head back home. It was a great weekend and I certainly thank both Annette and Mitch for a terrific time.

7 Previously Unavailable Titles in the United States
Set For Release May 30, 2000

Wilton, Connecticut - J-Bird Records (OTC BB: JBRD) announced today the signing of 7 solo CDs from Mitch Ryder, former frontman of Mitch Ryder & The Detroit Wheels. Set for in-store and online release on May 30, 2000, it marks the first time the CDs will officially be available in North America.

The 7 CDs are: How I Spent My Vacation (1978), Naked But Not Dead (1979), Live Talkies (1981), Got Change For A Million (1981), Smart Ass (1982), In The China Shop (1986) and Red Blood White Mink (1988). These rare solo CDs were originally a result of an alliance between Ryder's own Seeds & Stems label and German record label Line. Mitch Ryder & The Detroit Wheels almost single-handedly defined the white boy soul of the '60s with such classics as "Devil With A Blue Dress On/Good Golly Miss Molly," "Jenny Take A Ride," "Shake A Tail Feather," "Little Latin Lupe Lu," "Too Many Fish In the Sea"and "Sock It To Me Baby."

Recognizing the tremendous appeal of these recordings, JBird Records, the first WWW recording label, will be releasing all 7 CDs simultaneously both online at www.jbirdrecords.com and in retail stores throughout North America via it's distribution agreement with the Navarre Corporation. J-Bird was established in 1996 by music industry executive Jay Barbieri. The label combines online and traditional marketing and distribution for it's current roster of over 300 artists.

Mitch Ryder, who still resides in Detroit, Michigan, is currently touring the U.S. and conducting media activities for the much-anticipated JBird releases.

Please contact us for additional information regarding the Mitch Ryder releases from J-Bird Records and to request copies or interviews.

Contact Steve Levesque or Patrick Lugo at 310-860-9179 or email at nfo@luckmedia.com or http://www.luckmedia.com